Every woman needs a good statement piece in their wardrobe. But what if it was a statement piece that flipped the script on how people viewed the relationship between women and money? Alice Milligan, CMO at Morgan Stanley, and Rebecca Minkoff, Co-Founder & Designer of Female Founder Collective at Rebecca Minkoff, brought that symbol to life through their partnership.
The sustainably-sourced Banker Bag 2.0 was birthed, and after selling out almost three times over, it's clear that this message empowered many women through fashion and fearlessness. The data has been loud and clear that, yes, women can manage money, and they can do it ethically…and fashionably.
Here is what Alice and Rebecca had to say on MTM Visionaries and how it could impact your teams, talent, and future.
 You Can Find the MTM Visionaries Podcast On Apple, Spotify, Amazon, and more!
Overview:
Flipping The Script: A New Story about Women Leaders
Partnerships That Make a Statement
When Partnerships Result in Moneybags
Bragging on Other Leading Women
Career Tips for Women

 Flipping The Script: A New Story about Women Leaders
You both have done so much to empower women everywhere. Let's talk a little bit about your individual efforts.
Alice Milligan: Championing diversity and inclusion at Morgan Stanley has been a critical initiative; it's one of our core values as a firm. We are always thinking about how to break down barriers and create a more equitable tomorrow. For me, that looks like developing inclusive marketing campaigns and branding.

Everything we do is backed by data and research. We've seen over time that, despite women controlling over 50% of personal wealth in the U.S., women commonly describe the wealth management industry as "unwelcoming," "patronizing," or "full of jargon." Additionally, in some of our recent proprietary research, we found that over 50% of high-net-worth female investors have reported that financial firms talked down to them.

With that data, our response was: how do we flip the script? How do we engage women on their terms, in meaningful ways, and walk the talk? We have become very focused on partnerships and how we bring our partnerships to life. For example, we brought on Leylah Fernandez, a 20-year-old tennis professional, as one of our brand ambassadors and did several campaigns and work with her around representation called "See It to Be It." We saw tremendous engagement.
Rebecca Minkoff: I launched The Female Collective with my co-founder, Alison Wyatt, almost four years ago. It was built out of the sheer frustration of talking to so many women about wealth inequality and how it would take over 100 years to close the gap, but not knowing if that talk changed anything.

We realized the only way to close the gap is to flow money to women and get more female founders successful and on their feet. When they succeed, I hope they invest in women by hiring them, giving them proper maternity leave, and all the things we need to do to support them.

We've grown the collective into over 20,000 female-founded businesses. We have a website, directory, and exclusive private membership for those who want more one-to-one. Recently, we launched a new vertical called The North; a thriving one-on-one paid mentorship program with women.
Partnerships That Make a Statement
How did the two of you decide to partner together to create the Banker Bag 2.0?
Rebecca Minkoff: My first bag, also known as "The Morning After Bag," was based on this vintage silhouette of this banker bag I found at a Parisian thrift store. When my team and the Morgan Stanley team connected, they began talking about how the banker bag is predominantly for men and stands as a symbol; people notice symbols and what they stand for. We decided to relaunch the bag but make it about women and make it a size you can take to work but still feel stylish, strong, empowered, and confident. We wanted to recreate the symbol for the financial industry and the women working in it.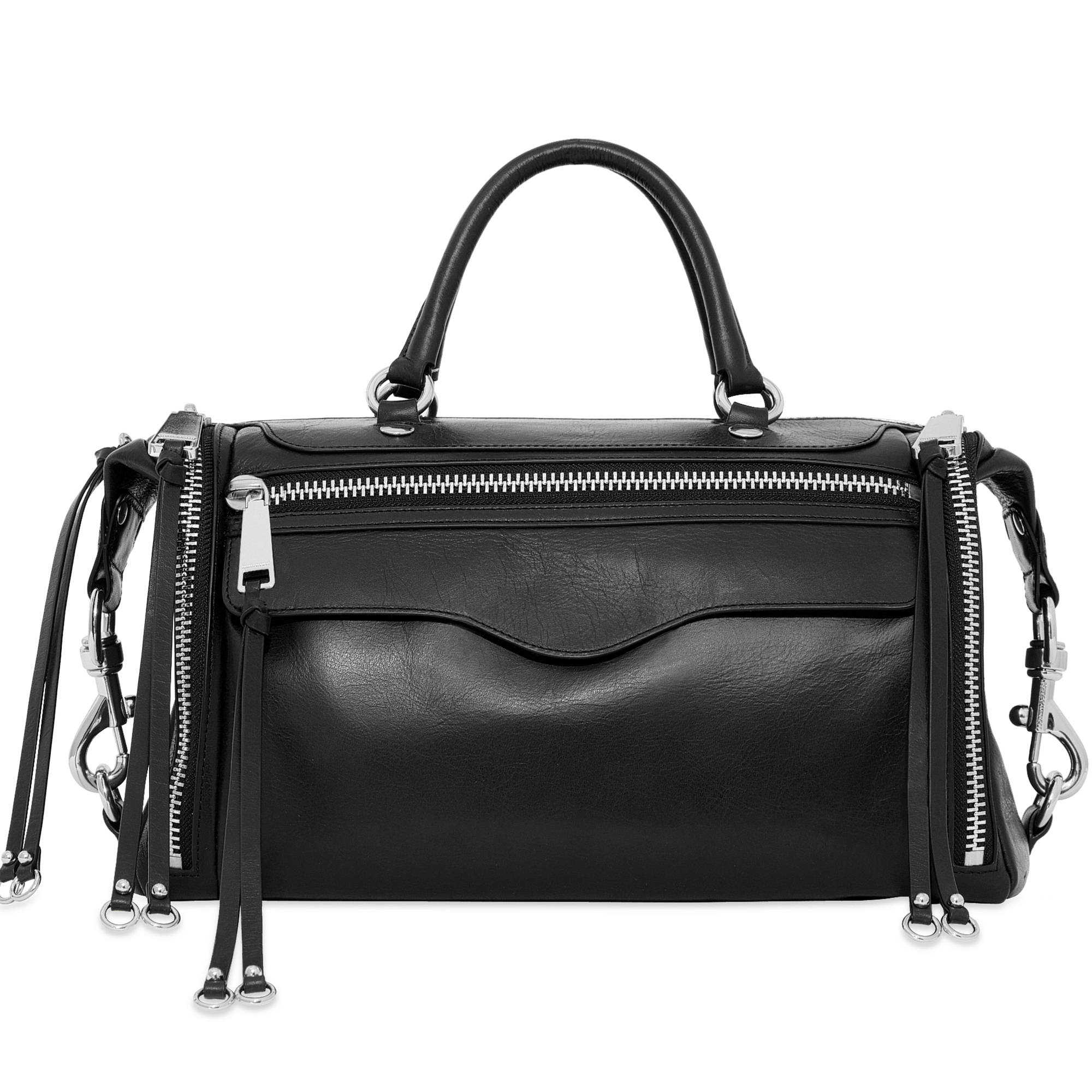 Alice Milligan: Rebecca is a fierce advocate for women. As we started to look at the partnerships we do, it's about what partners and collaborators have similar and consistent values and represent what we're trying to symbolize. Rebecca's Female Founder Collective and her willingness to share her insights and create opportunities for others were critical components while looking at the partnership. We started to look at some of the stats around women and how they feel about financial services, and we recognized that symbols matter.

The banker bag signaled a sense of belonging to an industry that didn't speak to women. In our research, we found that less than 3% of women in the financial services industry owned a banker bag, and over 50% of those women said that it wasn't for them and it wasn't for diverse people groups. The data revealed that this was a great opportunity to see how we can tackle this. We approached Rebecca's team, and it was almost kismet when we came together. It's been nothing but a pleasure to work with Rebecca and her team, and we've seen some amazing results.
When Partnerships Result in Moneybags 💰
What have been the results of your partnership?
Alice Milligan: This collaboration represented a bunch of firsts for us. This was Morgan Stanley's first collaboration with a fashion brand; we received great press and feedback simply for the nature of the partnership. It was the first time we used social influencers to communicate alongside our marketing and organic social channels, and it also was our first time placing content on TikTok.

There was a 30% increase in new account followers on our social media platforms. The content had a 90%+ sentiment score. It's also important to note that the target audience was our employees; it created a sense of belonging to Morgan Stanley and the financial services industry. Most meaningful to me were all the notes I received from colleagues saying, "About time," "Thank you," and "We're grateful for the acknowledgment that this bag represents." It hit home for them and symbolized a change in the right direction for the industry.

Rebecca Minkoff: We've always pushed boundaries as a brand and have stood at the intersection of technology, fashion, and women. Whenever I can bring those worlds together, it's always fun. To work with Morgan Stanley and show a symbol for a smart, powerful woman with style and confidence is a pillar of the brand. We were excited that the bag sold out almost three times over. We're thrilled with the success, and, not to brag, the bag is gorgeous!

Sustainability was a huge pillar of importance to Morgan Stanley, and we've done a lot in the sustainability space, whether it's our sustainable apparel collection called "RM Green," that's also size inclusive, to eliminating 90% of the plastic to our supply chain. But, we had yet to tackle the bag, mainly because non-leather options that are non-toxic are expensive, and one of our values is being sensitive to a woman's finances. We were excited about the opportunity to make and produce a handbag with entirely sustainably sourced leather and dye made from olive leaves that fall to the ground before they're collected. To fully integrate that pillar into our handbags was also really exciting.
Bragging on Women Leaders
As you think about others in the industry supporting women, who comes to mind and why?
Rebecca Minkoff: Two leading ladies come to mind when I think of women paving the way: Jessica Alba at Honest, and Jen Hyman, from Rent the Runway. Jen's organization gives women and men six months of paternity and maternity leave.
Alice Milligan: In financial services, several firms and companies focus on pay equity and, most importantly, on developing and mentoring up-and-coming women leaders. Two noteworthy folks do that in this industry, particularly within Morgan Stanley:
First is Liz Dennis, the head of our private wealth management organization. She's been focusing on filling our talent ranks with women, oversees a team of over 600 advisors, and believes in the power and the impact of seeing women succeed. She has spent much of her time creating the right pathways for women, empowering them to work with investors, and leading investment management and wealth management functions for some of our highest-value clients.

The other is Carla Harris. Carla has spent a tremendous amount of time, internally and externally, mentoring and being a role model for women of color and people of color. She has helped educate, empower, and provide tools for them to develop generational wealth, which has been a real gap. She has a podcast called Access and Opportunity. She gives tips, talks to other experts, applies them to a real-life example, and then talks to folks about how to build wealth and think about the next generations.
Career Tips for Women
What career tips can you offer women leaders from what you've learned along the way?
Alice Milligan: Muhammad Ali has this great quote: "You don't lose if you get knocked down; you lose if you stay down." Grit, determination, and resiliency have been crucial in business, life, and my success. There will always be times when things don't work out your way; it's how you respond, dust yourself off, and try again. That is what makes success.
The second thing is that the harshest critic is often yourself. Being a woman in business, it always feels like you have to try harder, be smarter, do more, and work later. It wasn't until I realized that I was being my harshest critic that I was able to cut myself a little slack. I focused on what I did well, played to my strengths in terms of the assignments I took and how I represented myself at the table. It wasn't until then that I started to succeed.

Rebecca Minkoff: We are at an instant gratification age. We can get our groceries with the click of a button, and then you try to approach your career with the same mentality. Adjust the time horizon. This is the one arena that I don't know a shortcut to.
If you want a career and love what you do, give it five to ten years. Work the chess board, and keep playing the game, but don't think anything will happen overnight. If it does, awesome. Run with it and take the headwinds, but put in the work, be strategic, and know it takes time.
____________________________________
Visionaries, hosted by Nadine Dietz, airs every week and is brought to you in partnership with The Wall Street Journal. Each week, two new Visionaries share their game plan and how that impacts today's teams, talent, and hybrid work environment.
Alice Milligan, CMO at Morgan Stanley: As CMO of Morgan Stanley, Alice oversees the firm's global brand strategy and go-to-market platform, encompassing all marketing campaigns, sponsorship assets and digital properties. Prior to her current role, Alice was EVP & Chief Customer Officer for E*TRADE. Before that, she was the Chief Digital Client Experience Officer for Citi's U.S. Consumer Bank. She also garnered more than 25 years of increasingly senior marketing and digital experience at leading brands like American Express, Coach, and AT&T. Alice was recognized as one of Campaign's 40 Over 40 (2022), Crain's Notable Leaders in Advertising, Marketing and PR (2022), Crain's Notable Women in Finance (2018), and PaymentsSource's Most Influential Women in Payments (2018) list.

Rebecca Minkoff, Co-Founder & Designer, Female Founder Collective at Rebecca Minkoff: Rebecca Minkoff is an industry leader in accessible luxury handbags, accessories, footwear, and apparel. Rebecca Minkoff's modern bohemian designs are inspired by strong, confident, and powerful women drawn towards a west-meets-east sensibility.
Since launching in 2001, the brand has established itself as a destination where functionality, modern femininity, and the current cultural moment converge, and is now recognized as a global brand. In September 2018, she established the Female Founder Collective, a network of businesses led by women who invest in women's financial power across a socio-economic spectrum by enabling and empowering female-owned businesses.
Rebecca is a best-selling published author and has a podcast called Superwomen with Rebecca Minkoff. She simultaneously entered the world of Web3 as the first American Female Fashion Designer to unveil a collection of branded NFTs timed to NYFW, which sold out in under 8 minutes.
Marketers That Matter® is a community of top marketing executives coming together to pioneer the future of marketing, sharing real-time experiences, and solving current challenges.
Our parent company, 24 Seven, specializes in helping you find exceptional marketing and creative talent for your teams.